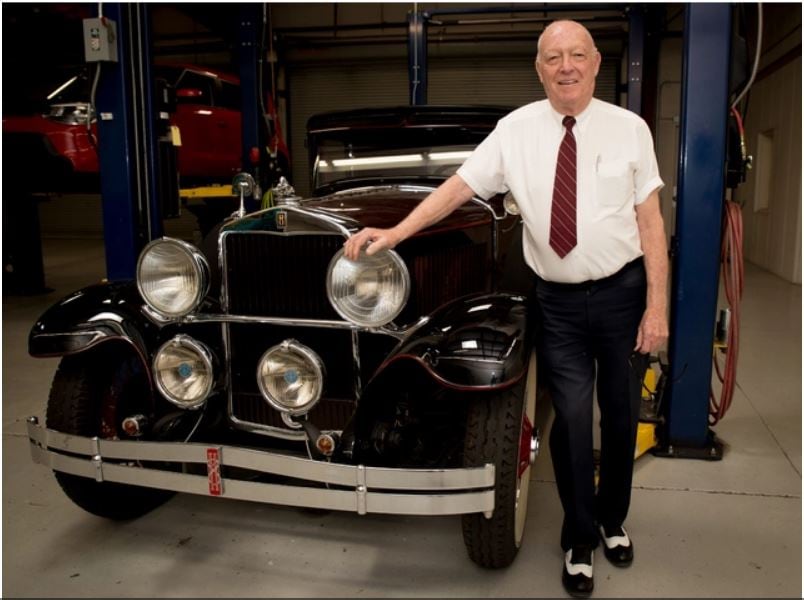 Jim Marsh Chrysler Jeep, a family owned and operated Automotive dealership for over 50 years in Las Vegas, NV.
Jim Marsh has been selling automobiles in Las Vegas for over 50 years! Since 1971, Jim Marsh started with an AMC dealership located on the corner of Fremont and Bruce St. In 1976, Jim Marsh moved to the better-known location of Eastern and Sahara, adding Chrysler, Jeep, Saab, Jaguar and MG. Years later, In 2001, Jim Marsh Automotive finally settled in its current Centennial Hills location - Jim Marsh Chrysler Jeep.
Not only has Jim Marsh been recognized as one of the most established Automotive dealers in Nevada, he also serves to the entire community of Clark County, and surrounding areas in Northern and Southern Nevada.
Jim Marsh has also embarked on less well-known interests as a quiet rural benefactor. Over the years, the Nevada history buff has acquired a multitude of tiny motels and bars across the Northern and Southern parts of Nevada, such as The Santa Fe Saloon in Goldfield, NV, which is one of the oldest established in 1905 and Nixon mining building in Goldfield; the Tonopah Station casino, Banc Club and Humbug Flats bar in Tonopah; The Longstreet Casino in Amargosa Valley, NV;  the Alamo Club in Pioche, NV and the Manhattan bar and motel in tiny Manhattan, NV.
Thanks to Jim Marsh, owning and operating in these small rural areas has employed roughly 150 workers in struggling small towns where steady jobs are hard to come by.
Jim Marsh Chrysler Jeep was a proud recipient of the FCA Customer First Award for Excellence in 2017, 2018, 2019, 2020 and 2021. This award is given to recipients who have achieved the absolute highest level of customer experience in the areas of performance measures, process validation, employee survey, training certification, and faculty certification.
Jim Marsh has personally hand selected a team of knowledgeable sales associates who can answer all of your questions and certified technicians in our service department who can perform all of the necessary work for your vehicle.
The entire staff at Jim Marsh Chrysler Jeep works to serve customers to the best of our ability. We take tremendous pride in providing great new or used vehicles to people at great prices, and we work to do whatever we can to help you leave our lot in a car you love.